If you're looking for revenue and want to own some great organic farmland – this investment is a natural for you!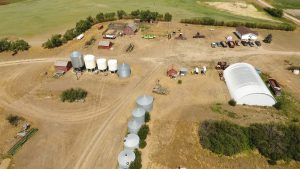 This farm consists of 7 organic grain quarters as well as 1 ½ quarters of pasture land.
There are natural gas lease revenues of $26,444 per year that will be transferred to the new owner.
There is a yard site with a house, Quonset, various outbuildings and 30,415 bushels of grain storage that are also included in the listing price.
This is a great opportunity for an organic producer who is looking for a turnkey operation. Having three revenue streams (natural gas, hay land, and grain land) this is also a great diversified property for an investor.
Click below to see the amazing drone footage of the property!

 Property Details
RM of Fox Valley #171
Size: 1359 acres
Price: $2,450,000
MLS# SK701986
For More Information
Click here to review the complete listing. More photos also available at the complete listing link.
Contact Ted directly to learn more today! Email ted@tedcawkwell.com or phone 1-306-327-7661.