Turnkey Mixed Farming Operation
This farm is the perfect set up for someone wanting a turnkey mixed farm in East Central Saskatchewan.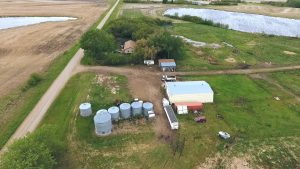 The yard is perfect for easy movement and monitoring of the cattle and grain. Come and see the cattle handling facilities, corrals, barn and other infrastructure to fully appreciate their value.
The home is in the main yard with the grain bins, shop, cattle facilities and other outbuildings. The infrastructure ensures maximum efficiency and ease.
The land is all grain quality but there is currently a section of pasture. There are 9 quarters of grain land and 4 ½ quarters of pasture. The pasture can carry 150 pairs and the yard can comfortably hold 400 cows.
The land is currently rented out for the 2017 season.
There are many opportunities to purchase or rent more land in this area.
Click here to see the full listing.
Check out this amazing drone footage!
For More Information
Please feel free to contact Ted directly at 306-327-7661 or email him at ted@tedcawkwell.com for more information today!